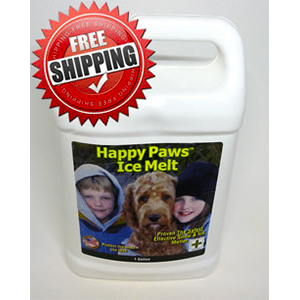 Model: LHPG-CASE
Shipping Weight: 48lbs
9996 Units in Stock
Manufactured by: The Green Earth Company, Inc.
--
FREE SHIPPING - CASE OF 4 GALLONS - Happy Paws is proven the SAFEST ice and snow melting product on the market.
Contains absolutely no chlorides, no urea, no carbonyl diamide, and no glycols.
(Liquid CMA - with added Green Earth Winterizer for enhanced performance at lower temps.)
Safest deicer on the environment, concrete, metal, wood decks...
and of course safe for animals !
PAYMENT: Pre-payment is required on web orders: Prices Subject to Change Without Notice
SHIPPING AND FREIGHT: We use UPS Ground on smaller items. Freight companies on pallet shipments, Best way. A processing fee which includes all shipping and handling will be added to your total based upon the amount of your order. Our products are non-hazardous materials.
**Note: certain areas may have additional shipping charges.  While we do our best to offer free shipping to all areas, the nature of freight costs at the current time, sometimes require an additional charge.  We will notify the customer of any additional charges, and give the option of canceling and refunding the order if need be. **
RETURNS / REFUNDS: We stand behind our products. Any items that are defective may be returned for a full refund or replacement within 30 days. Buyer pays return shipping costs. Please contact us to arrange any returns.